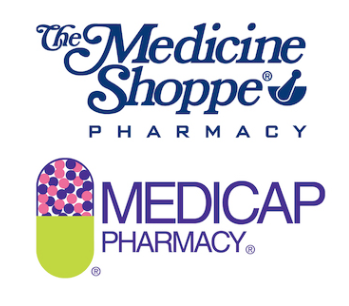 Own your own community pharmacy
The Medicine Shoppe® Pharmacy and Medicap Pharmacy® franchise opportunities
Medicine Shoppe International, Inc. provides high-quality, result-driven business ownership opportunities in professional retail pharmacy. We provide franchisees with the tools and support needed to succeed in a competitive, ever-changing industry.
Not your typical franchise deal:
Flat $599/month franchise fee to join the network
Five-year licensing agreement with a 90-day out
$300 credit for services that will help you succeed in a competitive industry
Choose from two well-known brands based on geographic fit
Flexibility to use the franchise brand name alone or to co-brand with your pharmacy name
Join this elite network of independent pharmacies and get:
Best practice sharing from a recognized, high-performing franchise system
Practice at the top of your license with patient care services like immunizations and point-of-care testing
Business coaching from a dedicated Franchise Business Consultant, with expertise in pharmacy management, at no additional cost
Digital marketing tools including industry-leading digital marketing platform that drives refills and patient engagement
Consider the path to ownership right for you:
New Store Offering: Practice pharmacy your own way with The Medicine Shoppe or Medicap Pharmacy franchise. Become a healthcare destination for patient care in your community offering the personalized service you know patients need. Utilize a system that has been opening new pharmacy franchises for over 45 years.
Acquisition: The acquisition of an existing pharmacy operation can provide a sense of security for many owners and their families. Blending the strengths of an ongoing business with the passion, knowledge and goals of a new owner can prove beneficial for the whole community. Our team of professionals can help you find the right pharmacy buying opportunity, secure financing for the acquisition, and when necessary, transform the business into a Medicine Shoppe or Medicap Pharmacy franchise.
Co-Branding: Unite your well-established local brand with a network of patient-focused pharmacy owners and the power of a national franchise brand. Our flexible offering provides individualized support you need for your business to stay competitive and grow.
Whatever path you choose, you'll have an entire team of professionals at your side from the pre-opening experience to marketing and managed care and operational support.
Just as the right pharmacist can make all the difference to patients, the right franchisor can make all the difference to you. For more than 45 years, Medicine Shoppe International has helped pharmacists do what they want to do most: take care of patients. And while the business of pharmacy is complex, our mutual goal is simple: to fuel your passion for patient care and help you succeed. Use the form above to contact our Franchise Development team today and learn the facts about our franchise and why it may be the right next move for you.
If you are interested in owning a Medicine Shoppe Pharmacy or Medicap Pharmacy franchise, please contact Connie Lane, Director of Franchise Development, at connie.lane@cardinalhealth.com or 314-872-5382.
The information provided is not intended as an offer to sell or the solicitation of an offer to buy a franchise. The offer of a franchise can only be made through the delivery of our franchise disclosure document. Medicine Shoppe International, Inc. (MN Franchise Reg. #F-145) 7000 Cardinal Place Dublin, OH 43017 New York: This advertisement is not an offering. An offering can only be made by a prospectus filed first with the Department of Law of the State of New York. Such filing does not constitute approval by the Department of Law. (c) 2019 Cardinal Health. All Rights Reserved. THE MEDICINE SHOPPE, MEDICAP PHARMACY and CARDINAL HEALTH are trademarks or registered trademarks of Cardinal Health.